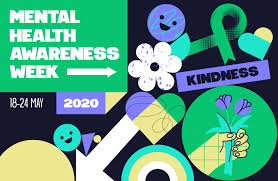 Lockdown has been quite challenging for all of us in different ways. Some of us have lost loved ones, are ill, struggling financially and mentally, out of work, working or isolating alone or with family. During these unprecedented times community support, kindness and strength has given us all hope and let us know that we will get through this together.
This week is national Mental Health Awareness week and the theme is kindness.  Show kindness to family, neighbours, friends, the refuse collectors who empty our bins every week, the shop assistants who serve us, the medical personnel, carers and all the other frontline workers who are helping to keep the country running and of course we must also show kindness to ourselves.
If we can help someone else from being sad during this lockdown then we will have made a difference.
Doubt and insecurity sometimes play games with us and if you are struggling with your mental health there are numerous ways you can seek help.
Speak to a close friend or family member
If you are feeling really low and need help as a matter of urgency call your GP for a virtual appointment or go to your local A & E.
Call Samaritans on 116 123 – it's FREE
For support in a crisis, Text Shout to 85258
If you need help and advice about debt, benefits and how the Coronavirus has affected you go to:https://www.citizensadvice.org.uk/.
For more information go to https://www.mentalhealth.org.uk/your-mental-health/getting-help
We are hoping that we will able to welcome you all once again to Futures House soon, pending government advice. For now, Futures Fun Factory and Futures House remains closed to the public. Please keep a look out on our website, Facebook and Twitter pages for updates.
Stay safe, reach out and be kind.
Mohammed Rafi
CEO Marsh Farm Futures