Past Futures Business Voice News and Events
Business Voice Seminar
SEMLEP Chief speaks to business owners at Futures House
Futures House, Marsh Farm was buzzing with activity as business men and women from across the counties listened to talk by guest speaker Daniel Mouawad, CEO of SEMLEP.
The event hosted by Marsh Farm Futures and organised by Programme Manager, Ishaq Kazi had over 40 people from various organisations and businesses in attendance. Other speakers at the event included Marsh Farm Futures CEO, Mohammed Rafi and Chair of the Futures Business Voice, Richard Cooper.
Delegates, some starting in business and others in established businesses, listened as Daniel Mouawad gave a presentation on SEMLEP funding opportunities and how to access business support.   Other speakers included Martin Blower from A plan Insurance and Richard Cooper who gave more information on funding opportunities available to local businesses. "We've had a fantastic response to this event. As part of our long term commitment to support the business sector, we will continue to promote Luton's entrepreneurial flair and host business networking every quarter", said Ishaq Kazi.
"It is through events like this that businesses can learn how to be successful. Hard work plays a part but knowing where to go for help and support cannot be overstated. Definitely a worthwhile event and I look forward to attending the next one", said one attendee.
Daniel Mouawad commented "I am very pleased to be here again at Marsh Farm Futures to see tremendous achievement since the last two years. I will continue to support MFF in their efforts to help residents improve their economic wellbeing. SEMLEP has ambitious infra-structure plans for the area and we are engaging the business and the voluntary sector to help achieve these".
Mohammed Rafi, CEO of MFF commenting on the event said, "We are very keen to be part of the initiatives being delivered by SEMLEP. We are particularly excited to be able to support Marsh Farm residents who are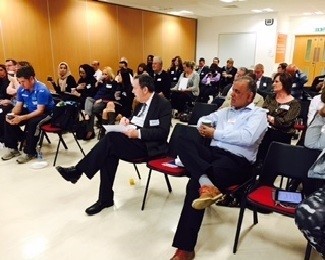 Cyber Security Presentation
Please click the button below to download the PowerPoint from our latest Cyber Security Presentation