Events
Please see the below calendar for all new and exciting events happening with and around Marsh Farm Futures.
Regular Events:
Monday
Tuesday
Wednesday
Thursday
Friday
Luton Foodbank, 11am-1pm
Limbury 50+ Group, 2pm-4pm
Sundon Park Art Group, 9:30am-12:30pm
Futures 50+ Group, 1pm-3pm
Shah Jalal Prayer Group, 1pm-2pm
Yoga, 7pm-8:30pm
Stay & Play, 9:45am-11:45am
Sangam Ladies Group, 2pm-4pm
AMA Prayer Group, 2pm-3pm
Sundon Park Art Group, 7pm-9pm
Pilates, 9:45am-10:45am
Ladies Exercise Class, 7pm-8pm
Youth Club

7 -10 yrs 6pm to 8pm

Youth Club

11 – 13 yrs
4.15pm – 6.15pm

14 – 16 yrs

6.45pm – 8.45pm

Free online Art Classes from learning through the Arts
10th March 2021 @ 8:00 am

-

31st March 2021 @ 5:00 pm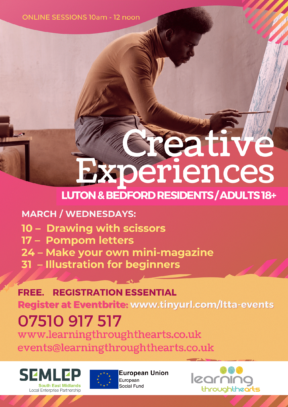 Learning through the Arts (LTTA),  a social enterprise which works within the community to promote learning, creativity and skills development through the Arts are offering free online art lessons for adults. Click here to find out more.