Events
Please see the below calendar for all new and exciting events happening with and around Marsh Farm Futures.
Regular Events:
Monday
Tuesday
Wednesday
Thursday
Friday
Luton Foodbank, 11am-1pm
Limbury 50+ Group, 2pm-4pm
Sundon Park Art Group, 9:30am-12:30pm
Futures 50+ Group, 1pm-3pm
Shah Jalal Prayer Group, 1pm-2pm
Yoga, 7pm-8:30pm
Stay & Play, 9:45am-11:45am
Sangam Ladies Group, 2pm-4pm
AMA Prayer Group, 2pm-3pm
Sundon Park Art Group, 7pm-9pm
Pilates, 9:45am-10:45am
Ladies Exercise Class, 7pm-8pm
Youth Club

7 -10 yrs 6pm to 8pm

Youth Club

11 – 13 yrs
4.15pm – 6.15pm

14 – 16 yrs

6.45pm – 8.45pm

Community Quiz Night
29th June 2019 @ 7:00 pm

-

11:00 pm

£6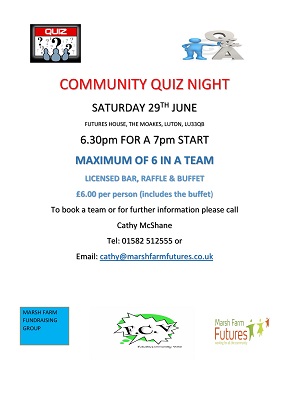 Join us on 29th June for a fun quiz night. Only £6 per person including your entry and buffet.